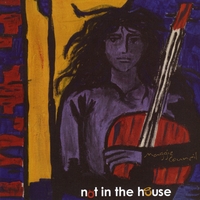 My brilliant stepmother has put out a new album. When she came into my suburban south Florida life from the exotic land of Chicago, I was 12 and--completely intrigued by her knowledge of the blues, conspriacy, Native Americans, and Ricki Lee Jones.

She was the first person to turn me on to a new kind of storytelling
by setting the place I was from in a new context. A Midwesterner stranded in Tampa, she oriented herself by getting to know Spnaglish, by befriending and studying with local historians.
Not In The House

Americana that grooves with intelligent lyrics.
tracks
Organic, progressive Americana.Intelligent lyrics. Cage-free vocals. Slinky grooves. With influences from art rock to Chicago blues, Motown to mbaqanga, and funk to folk, Tampa-based Maggie Council's mostly-acoustic music is minimally processed; no click tracks, steroids or artificial flavors.A self-taught musician, she writes songs on guitar, bass and piano.
Maggie has shared bills with a diverse array of artists, such as:Acoustic Alchemy, Joan Armatrading, The Band, Guy Clark, Steve Earle, Steve Forbert, Hot Tuna, Robert Earl Keene, Jr., Ronnie Milsap, Matt "Guitar" Murphy, Michelle Shocked, Chris Smither, Al Stewart, Townes van Zandt, and Warren Zevon.
Produced, arranged and engineered by Rob Constable, "Not In The House" features the talents of Ray Villadonga, Dave Rogers and Danny DiPietra among others."One of Tampa Bay's most respected and admired performers, Council has an interesting style, combining the understated slink of, say, JJ Cale with the lyrical conscience of Bob Dylan or Joni Mitchell.
–Craig Michaels, JAM magazine
Maggie is a happily married mother of three, originally from the Chicagoland area. A few words from Maggie about the songs:
Nebraska Avenue – Ode to southeast Seminole Heights neighborhood of Tampa. Every word is true. All the extraneous sounds are actually from on or near Nebraska Avenue, where Robert hung out with a field recorder. That's dedication. One of the only songs with drums on this CD, the rhythm section is from my old band, Maggie and the Trashmen of Ybor (Maggie y los Basureros de Ybor), Ray and Danny.
You Were Dancing – Wrote this one for my dad, a Marine drill sergeant, shortly after he passed away. It was the pinnacle of my recording experience to play the Marine Corps Hymn on a toy piano into a $4,000 microphone.
When Mama's Happy – Wrote this for my oldest son before he left for college. I gathered the lyrics from women who I thought were exceptional moms.
Palm Trees in My Backyard – A nod to Chicagoland and the girls I grew up with. My youngest son sings a harmony line. Now he wants his own album.
Waking Up – Composed on the Warwick bass my boys gave me for Mother's Day. I don't really play bass, but I like making up songs. Bassed [heh] on an instrumental riff mostly written by Andy Irvine. The lyrics reflect a daily struggle I think a lot of people can identify with; getting out of bed and going to work.
Ordinary Dias - Revisiting a song from my very first album. I combine it with an entirely new song. It's my tribute to the spirituality of quantum physics.
Not In The House – OK. I was watching a Jeff Berlin bass instructional video and reading a book about using words to frame arguments called "Don't Think of an Elephant" while wondering what would happen if the single mom with 4 kids I saw at the Laundromat [on Nebraska Avenue] ever became President. Rob Constable does the death star vocals. :D
Coulda Been - The only song I wrote on piano that I can sing at the same time, I wrote this long ago during a sad time. Dave Rogers put a sweet accordion part on there.
These Two Boys - This really happened to the Wayuu people in Colombia less than 5 years ago, and I have a hard time extracting it from the continuing saga of the Mothers of the Disappeared.
Picket Dancing – My tribute to the un-group Anonymous, whose pickets against the Scientology organization have allowed stifled voices to be heard. They seem to be sparking a new direction in social change; it's more fun with dancing and cake.